Heidi's Musical Gymnastics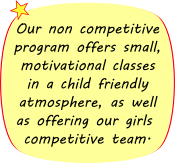 The Great Strides Monitoring Program
Heidi's Musical Gymnastics stands "head and shoulders" above other programs since it's development of The Great Strides Monitoring Program. This challenging program monitors every child, ensuring each child is put in the appropriate, small class equal to his or her skill level. Children are gently challenged to continue making great strides using new, exciting lesson plans in an intimate, child friendly gym. With Heidi's program you are not overpaying for a name or a "big space", you are getting a bargain with your dollar and with results.
Heidi's Musical Gymnastics offers experience
Coaching in TN since 1995
NCAA Gymnast (full athletic scholarship)
Trained by former Olympic Gymnastics Coach
Personally designed curriculum drawn from her experience and study
Personally trained hundreds of children.
Many testimonials and accolades.
Benefits
Flexibility, balance, fine/gross motor skill development, increased athletic ability greater social awareness.
Why our Gym?
Our non competitive program offers small, motivational classes in a child friendly atmosphere. Heidi's Musical Gymnastics is fully equipped and padded with soft equipment, low to the ground balance beams and an intimate setting.
For those children that want to be even more challenged, Heidi's also offers competitive gymnastics in the Xcel program. An exciting program that allows each child to highlight their individual strengths in a positive competition environment. We are offering competitive gymnastics for Xcel bronze, silver, gold, platinum, diamond and sapphire levels. Please check out our Girls Competitive Team for more information.
And don't forget us when thinking about birthday parties.